Audi rims with summer or winter tyres
Audi OEM Rims - Exclusive Designs for Your Model
When it comes to originality, design and safety, the German car manufacturer from Ingolstadt has reached the highest level, as the original and high-quality Audi rims are characterised by excellent performance and material properties.
The Audi OEM rims are in top condition and of high quality. Would you like to equip your model with impressive rims? Then discover our large selection of original Audi rims now. Whether you prefer an elegant or sporty option, you'll find what you're looking for at or24.de.
---
Rim sizes in the or24.de Audi wheel shop:
16 inch for A1, A3, Q2
17 inch for A1, A3, A4, Q2
18 inch for A1, A3, A4, Q3
19 inch for A3, A4, A5, A6, RS3, RS4, RS5, Q3, TT, TT RS, R8
20 inches for A5, A6, A7, A8, RS4, RS5, Q3, Q5, Q7, R8, e-Tron
21 inches for A6, A7, A8, RS6, Q5, Q7, Q8, e-Tron
22 inches for A7, A8, RS6, RS7, Q7, Q8, e-Tron

Audi rim sizes from 18 to 22 inches in comparison
---
3 reasons to buy OEM Audi rims
OEM Audi rims have many advantages. They are manufactured to the highest quality standards and designed specifically for your model.
Quality: You get a product that has been manufactured to the highest quality standards.
Longevity:Original Audi alloy wheels are made from high-quality materials that can withstand daily wear and tear.
Resale Value:If you want to sell your car, OEM rims will increase the resale value of your car.
Advantages of Audi Genuine wheels
When looking for the perfect set of Audi wheels, there are a few things to consider. So what are the advantages?
Increased safety: Premium Audi wheels increase safety. With better grip, you can avoid accidents
Improved performance: Audi wheels improve performance. With more control, you can corner better and brake more effectively.
Improved appearance: Audi factory wheels look great and always fit perfectly.
---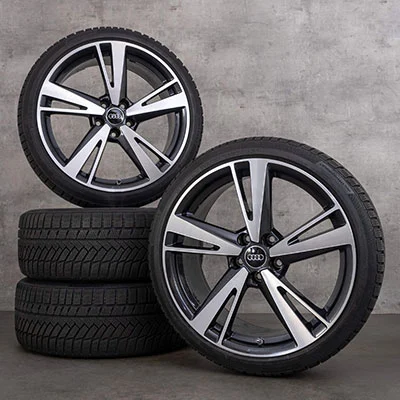 Audi winter wheels: absolute safety in winter
When you're looking for the perfect set of Audi winter wheels, there are three things you should consider: Size, grip and compatibility with your car's tyre pressure monitoring system.
With a set of winter wheels, your car will not only look good, but also drive better on snow and ice. That's exactly why you need the right rims with tyres.
Winter tyres are made of a softer compound that remains supple in cold weather. As a result, they grip the road better than normal tyres.
There are a few things to consider when choosing winter wheels. First of all, you must choose the right size. Original Räder offers a wide range of sizes.
Secondly, you need to choose the right Audi rims with winter tyres. Some treads are better suited to snow and ice than others.
And finally, you need to decide on the right price. Our offers consist of tyres as well as matching rims and offer optimal performance. Therefore, Audi winter rims are always worth the investment.
Audi summer wheels - tailored to your model
When summer finally arrives, it's time to give your car a refresh. The easiest way to do this is to swap your winter wheels for a set of Audi summer wheels. These will improve the performance of your vehicle.
The advantages of Audi summer wheels are that they are designed for better traction and handling on dry roads. In addition, Audi summer tyres are usually lighter than winter tyres, which can have a positive effect on acceleration and fuel efficiency.
When buying original equipment wheels, there are a few things you should consider. Firstly, you need to make sure that the Audi summer rims you choose are compatible with your car. You should also consider the size. And last but not least, make sure that the price is within your budget.
There are always summer wheels that fit perfectly. So, don't wait any longer and order your new Audi rims with summer tyres today!
How easy it is to buy Audi alloy wheels with summer or winter tyres at or24.de
We don't have an Audi wheel configurator in our shop, but we do have more than 100 design variants and sizes that are matched to your model in every detail. The Audi alloy wheels offer outstanding quality, safety and are optimally matched to the requirements of your vehicle.
Ordering your own set of original Audi alloy wheels with winter or summer tyres is easy! Visit our online shop or24.de or contact one of our expert sales advisors who will guide you through the process from start to finish.
We offer you the best prices and exclusive guarantees.
Which rims will fit my Audi?
Our tip: Check the registration certificate (formerly the vehicle registration document) Part I.
There, the permissible rim sizes are listed. There you will find the permissible rim sizes with details of the inch size, rim width and offset as well as tyre sizes. Example: 285/30 R22 101W - The 22 here stands for a rim size of 22 inches.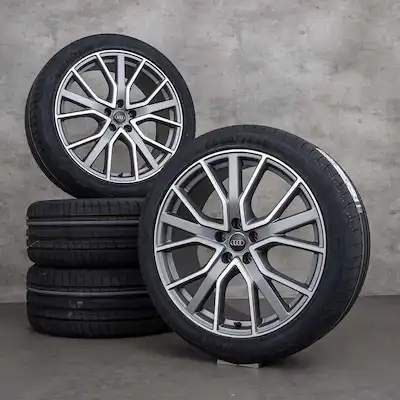 In our shop, you will also find the matching models for the Audi rims, summer and winter wheels you have selected in the description under vehicle models.
If you still have questions, just call us: +49 3831 / 66 77 110 or send us an e-mail: info@or24.de
Your Original Räder Team