Audi rims: Premium quality guaranteed ✓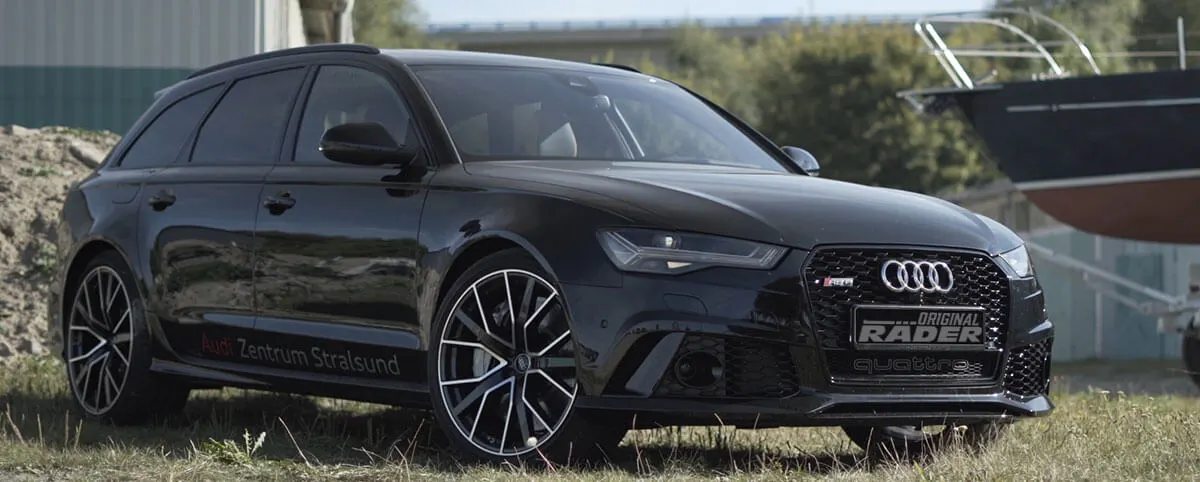 ---
Audi rims transform your vehicle into something special and are an investment that pays off in full. With our large Audi complete wheels selection, you are guaranteed to find the perfect set for your vehicle! ✔
---
Original Audi wheels: Designs for every model
"Vorsprung durch Technik" is Audi's slogan. When it comes to design and safety, Audi has reached the highest level. Audi's commitment to excellence is naturally evident in its rims. These high-quality original Audi rims feature outstanding performance and material properties that undergo rigorous testing until they are ready for production.
In addition, a great deal of care has been taken in the development of the alloy rims to not only meet regulations, but also to ensure that their customers receive what is worth owning. For the engineers at Audi, the ultimate goal is to give the customer the best and that is why they are always finding new, creative ways to make driving more enjoyable.
Audi rims always have dynamic designs to make elegant impressions. There are many sizes available for different Audi models: 17, 18 or 19 inch for models like the A1, A2, A3 or A4, 20 inch rims can be chosen for a sporty look. In the Q models or S/RS variants, 22-inch rims can turn heads.
The beauty of an Audi is determined by its wheels. The rims speak for themselves, telling others what type or design you have on your car and emphasising the character it was born with in every detail. The style of Audi rims ranges from simple to complex designs, so there is always one that fits our lifestyle. Original Audi rims are therefore a distinctive addition to any car model. They give your vehicle an exclusive look!
Audi complete wheels bring maximum safety
You can't go wrong with a set of Original Audi wheels. You'll definitely experience a delicate combination of quality and reliability. Audi engineers take their job very seriously, putting every Audi wheel through rigorous testing to ensure it meets high performance standards. This means a longer life expectancy for Audi alloy wheels.... Audi engineers take their job very seriously as they put every Audi wheel through rigorous testing to ensure it meets high performance standards. This means a longer life expectancy for Audi alloy wheels.
Audi complete wheels not only increase your safety, but also ensure that those who rely on these Audi OEM wheels can use them without any problems. So you see, the slogan "Vorsprung durch Technik" also applies to Audi alloy wheels. That's why Audi fans always say: "Four rings one love"! You too?
Why original rims? Here are your advantages!
Optimum fitting accuracy
Increased value retention
Longevity and high mileage
Excellent quality
Guaranteed sporty Audi alloy wheels
The performance models from Audi AG are marked with the abbreviations S, SQ or RS, depending on what kind of driver you want to be. Sporty drivers will love their sporty S-Line trim level, with its special forged Audi Genuine wheels for added strength. Audi rims are the pinnacle of engineering design and can be extensively customised with a variety of options, including colour.
Innovative Audi Competition rims are designed to give your car that extra bit of performance dynamism. These bespoke, high-quality Original Audi Rims reduce unsprung mass and give you superior driving experiences!
Audi Original Rims Rotor and S-Line in all sizes
The well-known Audi Original Rims Rotor are available in a 10-spoke design or as a 5-spoke variant. We carry summer tyres and winter tyres with rims in many sizes, such as 17 inch, 18 inch, 19 inch and 20 inch. The popular Rotor 1 and 2 reflect all the value that customers appreciate just as much.
Optically, S-Line rims are of course matched to the respective model, but the sporty and elegant audi rims also suit many other vehicle types. You can find suitable new or used Audi factory wheels here. Guaranteed!
Original Audi wheels: Sizes and wheel/tyre combinations
Want to buy Audi wheels? Then you are exactly right in the Audi rims shop of or24.de and can find the Audi sport rims with us! In our shop we have new and used Audi original rims and complete wheels with rim sizes 17, 18, 19, 20, 21, 22 and 23 inches. Which original rims can I drive?
Have fun ordering Audi rims! If you have any questions, just call: +49 3831 / 66 77 110 or send us an email: info@or24.de
Your or24.de Team