Audi rims with summer or winter tyres
---
▶ When it comes to outfitting your Audi, you only want the best. That's why we offer a wide range of Audi rims with summer or winter tyres. No matter what time of year it is or what style you prefer, we have the perfect set of Audi wheels for you.
---
Get ready to make your Audi 2023 shine with original wheels!
Are you an Audi owner looking for the perfect wheels for your car? If so, you're in luck! 2023 is the year to buy Original Audi Rims. Whether you're going for a classic look or something more modern, there are hundreds of rim options to choose from. Not sure which one is right for you? If you're ready to make your car shine with new Audi rims, read on and we'll explain why now is the time to make your Audi shine.
"Vorsprung durch Technik" is Audi's slogan. When it comes to design and safety, Audi has reached the highest level. These high-quality original Audi rims are characterised by outstanding performance and material properties that are subjected to rigorous testing until they are ready for series production.
Audi Genuine Rims have many advantages. Firstly, they are manufactured to the highest quality standards. This means they are durable and you don't have to worry about them rusting or falling apart. Secondly, they are designed specifically for your car. That means they fit perfectly and look great. And finally, you have a guarantee from Audi. That means if anything goes wrong, you're covered.
The best reasons to buy genuine Audi wheels
There's no doubt that a set of beautiful alloy wheels will make any car look good. When it comes to Audi rims, there is simply no substitute for the original.
Buy original Audi rims: Here are the best reasons!
Quality:When you buy original Audi rims, you know you're getting a product made to the highest quality standards. After all, Audi is a luxury brand that will not settle for anything less than the best for its customers.
Style:Style was at the forefront of the Audi factory wheels' development. They are not only functional, but also look great. So if you want your car to catch the eye, you should get yourself a set of original Audi rims.
Longevity: Original Audi rims are built to last. They are made from high-quality materials that can withstand daily wear and tear. So if you're looking for a set of rims that will stay with you for years to come, original Audi rims are the way to go.
Resale value: If you want to sell your car, Audi Genuine wheels increase the resale value of your car. Because potential buyers know they're getting a car that's been well looked after and has all the features and amenities they want.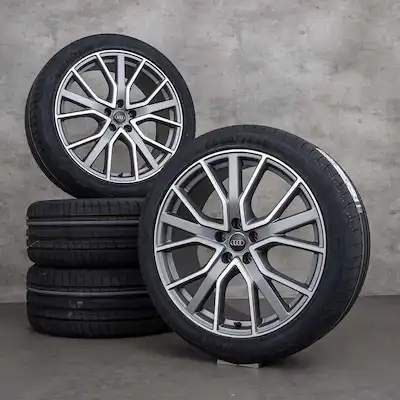 The many advantages of Audi Genuine wheels
Here at Original Räder we specialise in Audi alloy wheels. When you buy genuine Audi wheels, you get a product that has been manufactured with quality in mind and will last you for many years to come
We know that there are many factors to consider when looking for the perfect set of rims for your Audi. So what are the benefits of Audi alloy rims? Let's take a look:
Increased safety: One of the biggest benefits of Audi rims and complete wheels is that they can increase the safety of your vehicle. With better grip and control, you can avoid accidents and protect yourself and your passengers on the road.
Improved performance: Another great advantage of Audi wheels is that they can improve the performance of your vehicle. With better grip and control, you can corner at higher speeds and brake more effectively.
Improved appearance: Let's face it, one of the best things about factory Audi wheels is that they look great. Whether you're going for a sleek and elegant look or something a little more eye-catching, there's an Audi wheel that's perfect for you.
If you're looking for a new set of rims for your Audi, the first place you should turn to is or24.de. We specialise in original rims and complete wheel sets and know about the many benefits they offer. From increased safety to improved performance to better looks, there's no reason not to fit a new set of Audi Genuine wheels to your vehicle. So these rims are the best way to get the perfect look for your car - so don't wait any longer. Contact us or order your Audi OEM rims today!
Audi winter wheels - How to keep winter driving under control
When the temperatures drop and the snow starts to fall, it's time to think about replacing your Audi's summer wheels with a winter set. Audi winter wheels are designed to provide better traction and handling in cold weather and on snowy or icy roads. They are a must for anyone who wants to be safe on the roads during the winter months.
Audi winter complete wheels are a must for anyone who owns an Audi and wants to keep their car looking good during the winter months. With a set of winter wheels, your Audi will not only look good, but will also drive better on snow and ice. If you're thinking about buying a set of winter wheels for your Audi, check out our list of the best Audi winter wheels to help you make your decision.
Why you need Audi winter rims
If you live in an area that gets snow and ice in the winter, you need Audi winter rims. Winter tyres are made of a softer compound that stays supple in cold weather. This means they grip the road better than normal tyres. Winter wheels are often made of aluminium to prevent rust. They also have a special coating that repels road salt.
There are a few things to consider when choosing Audi winter rims. First of all, you must choose the right size. Original Räder offers a variety of sizes, so you need to choose the one that best fits your car. Secondly, you need to choose the right tread pattern. Some treads are better suited to snow and ice than others. And finally, you need to decide on the right price. Winter wheels and tyres can be expensive, but they're worth the investment if you want your Audi to run smoothly all winter long.
When you're looking for the perfect set of Audi winter wheels, consider these three things: Size, grip and compatibility with your car's tyre pressure monitoring system. By keeping these factors in mind, you're sure to find the perfect set of Audi winter tyres.
Now that summer is finally here, it's time to give your Audi a little refresh. The easiest way to do this is to swap your winter wheels for a set of Audi summer wheels. Not only will this give your car a whole new look, it will also improve its performance. Here's everything you need to know about choosing the right Audi summer wheels. Audi has released a range of summer wheels that are sure to catch everyone's eye
The benefits of Audi summer wheels
There are several advantages to swapping your winter wheels for Audi summer wheels. First and foremost, Audi summer rims are specifically designed for better traction and handling on warm, dry roads. They are also usually lighter than winter wheels, which can have a positive effect on your vehicle's acceleration and fuel efficiency. Last but not least, summer wheels simply look better than winter wheels. They come in a variety of colours and styles that will set your car apart from the rest.
Choosing the right summer tyres
When buying Audi summer tyres, there are a few things you need to consider. Firstly, you need to make sure that the Audi summer wheels you choose are compatible with your car. You should also consider the size, style and colour of the wheels to make sure they suit your personal taste. Last but not least, make sure the price is within your budget.
No matter what your style is, there's an Audi summer bike that's perfect for you. So, don't wait any longer and order your new Audi summer wheels today!
How to order your Audi wheels, summer wheels or winter wheels
Ordering your own set of original Audi rims with winter tyres or summer tyres is easy! Visit our online shop or24.de or contact one of our expert sales advisors who will guide you through the process from start to finish. We offer competitive prices across our entire range, so we're sure to have something to suit every budget! Plus, we deliver free of shipping charges. So get the best original wheels for your Audi today and get on the road to 2023!
If you have any questions, just call: +49 3831 / 66 77 110 or send us an email: info@or24.de
Your Original Räder Team