Audi RS3 rims with summer or winter tyres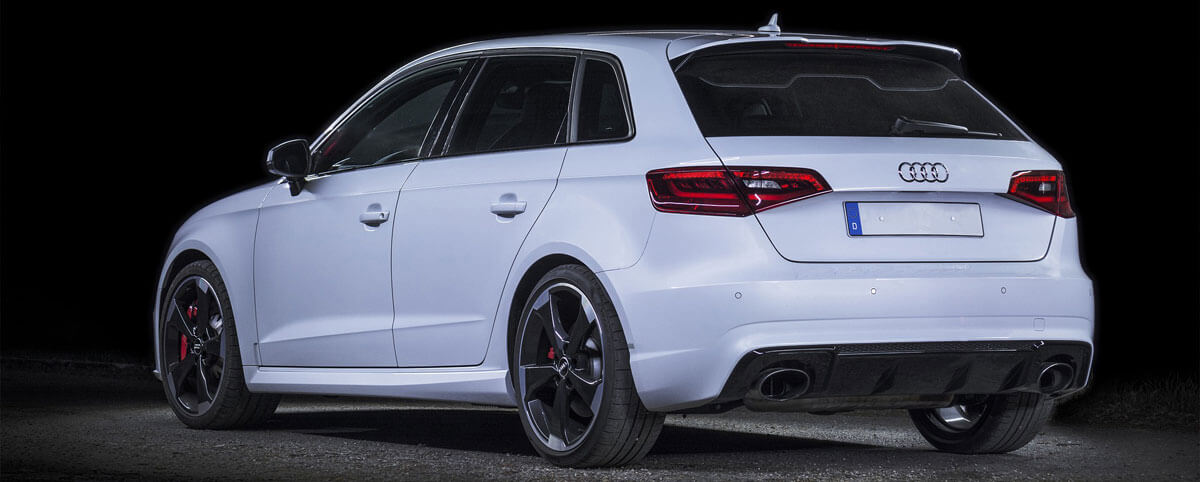 ---
Buy original Audi RS3 rims or wheels
With the Audi RS3 8P, the Ingolstadt car manufacturer Audi presented a vehicle in a class of its own in 2011, combining the comfort of a compact car with genuine racing technology for the road. Its emphatically sporty exterior houses a powerful engine that, together with the rest of the vehicle components, ensures pure driving pleasure. The same applies to its successor, the 8V, which was released in 2015 and consistently continues the philosophy of the first model generation. It is obvious that such a vehicle also needs high-quality and visually appealing alloy wheels that underline its exclusive character and enable the best performance on the road. Original Audi rims are therefore the perfect choice for the RS3.
Original Audi RS3 are the perfect accessory
There are many reasons to choose alloy rims. At the top of this list is their attractive appearance, with which they enhance any vehicle in no time at all. The various designs of original alloy wheels allow the sporty side of the Audi RS3 to be emphasised even more and at the same time give it a distinctly individual touch. However, the advantages of alloy wheels go far beyond their looks. They also ensure particularly agile vehicle handling, which is especially important for sporty vehicles like the RS3. Since aluminium rims are significantly lighter than steel rims, they reduce the unsprung mass. This not only reduces the load on the remaining chassis components, but also increases the vehicle's dynamics. Original light-alloy wheels from Audi also score points for their outstanding quality and consistently high handling characteristics in all driving situations. They are subjected to numerous stringent tests before they go on sale, so you can be sure that you are buying products of the highest quality.
Audi RS3 8P 8V wheel rim sizes
For the Audi RS3 models and series, we have compiled a list of wheel rim sizes in the Audi RS3 range. For the Audi RS3 models or series, we have the following wheel sizes in the Audi Shop: 18 inch, 19 inch
or24.de for your Audi RS3 in our wheel shop
In our online shop, we offer you winter complete wheels and summer complete wheels for your Audi RS3. The summer tyres and winter tyres with rims are specially designed for your Audi RS3, giving you optimum handling. Our range includes a wide variety of models from Rotor Design to S Line rims and Competition rims, so you can find the perfect rims for your Audi RS3. However, you can not only buy rims online with us, but also complete wheels. These are a particularly convenient solution if you need rims as well as tyres.