VW rims with summer or winter tyres
▶ Imagine the possibilities your car has and how it will look with a set of VW wheels. If you want to stand out, there's nothing better than these authentic VW rims! They come in every shape imaginable, so they can turn any car into something special, no matter what kind of rims you have. ✔
---
Get the best original VW rims for 2023!
Are you on the hunt for the perfect VW rims this year? Look no further! 2023 is the year you can buy original, genuine VW rims.
Original VW wheels offer better quality and durability compared to accessory wheels. These rims are designed with precision and manufactured by experts who understand the specific needs of VW vehicles. That's why they fit better, last longer and offer better handling than any other rim on the market. And they look great too! Read on to find out more about why original rims are the best.
The advantages of VW Genuine wheels
When you upgrade the wheels of your Volkswagen with these attractive and durable VW Genuine Rims, it doesn't just look better - you also improve its performance. This modification gives you more control over the road and better handling when braking and cornering. Plus, they're built to last. The sturdy construction ensures that they can withstand the most demanding driving conditions.
Another great advantage is that original VW rims offer greater fuel efficiency than regular steel rims due to their lighter weight. This means you can save money on petrol while enjoying better performance. And let's not forget the aesthetic value - these eye-catching rims come in a variety of styles and finishes, so you can customise your vehicle to suit your personal preferences.
Choosing the right set of VW alloy wheels
When choosing new alloy wheels, there are various factors to consider such as size, material and design. You should make sure that they are suitable for your specific vehicle model so that they fit properly and function optimally.
VW wheels are a great way to improve both the appearance and performance of your Volkswagen vehicle, while also saving money on petrol! They come in many different styles and finishes, so there's something for everyone, no matter what look you prefer. Do your research before buying a wheel to make sure it fits properly and gives you years of optimum performance! So go ahead - upgrade your Volkswagen with chic VW alloy wheels today!
VW winter wheels - The best choice in the cold season
When winter is just around the corner, it's time to think about how you can keep your vehicle safe during the cold season. One of the best options for winter safety is VW winter wheels. With a set of VW rims with winter tyres, you can be sure that your car will withstand whatever Mother Nature throws at it. Let's take a quick look at why VW winter rims are the best choice, as they have a number of benefits when it comes to improving cold weather performance and safety. These benefits include:
Durability and performance: VW winter wheels are designed for durability and performance. They feature high-quality construction to withstand even the harshest winter weather conditions. Plus, with their advanced tread design, they offer maximum traction on snow and ice-covered roads to keep you safe in all conditions.
Safety: When it comes to safety on snowy roads, there's no substitute for high-quality VW winter tyres. Their advanced tread pattern provides excellent traction even in the toughest conditions, so you won't skid or slip on slippery roads this winter season. In addition, the high-quality construction ensures that your vehicle remains stable even at high speeds - so you can face the difficult weather conditions this season with peace of mind. Winter wheels also offer improved braking performance thanks to their unique construction. With better grip and more efficient power distribution from the brakes, these wheels can bring you to a stop faster, increasing your safety on icy roads.
Affordability: VW winter wheels are also incredibly affordable. Not only do they cost less than other branded complete wheel sets, but they also come with unbeatable warranties from or24.de that ensure your purchase from Genuine Wheels is truly protected from any kind of weather damage or wear and tear. This means you don't have to worry about spending more money on repairs or replacements later on.
VW wheels with winter tyres are therefore the perfect choice for anyone who wants to make sure your car is safe during the cold months. Not only do they offer great construction and performance on icy roads, but also an unbeatable price and fantastic warranties! So upgrading your vehicle with VW Winter Wheels is a great way to ensure excellent performance this season, while improving safety and comfort behind the wheel. So don't wait - get your vehicle ready for anything this winter season and invest in a set of VW Winter Complete Wheels today!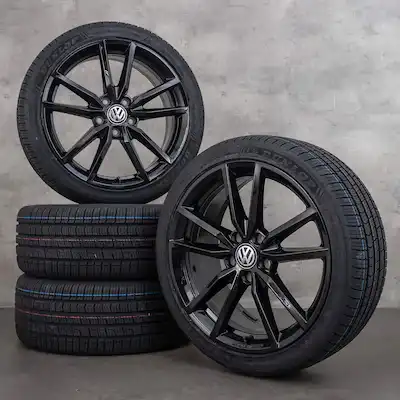 VW Original wheels are the perfect finishing touch for your Volkswagen
Whatever type of VW Original wheels you like for your Volkswagen, they are high quality and offer amazing performance. Plus, they look great on any model
All high quality finished and stylish factory wheels are made specifically for your Volkswagen. The originality coupled with the quality will ensure you get the best for your car, because it's worth more!
There is no substitute for originality, so don't settle for accessory wheels! The quality of your only contact with the road is also the most important thing! Factory VW wheels have a strong influence on handling and offer a lot of advantages.
Why original VW wheels? Here are your advantages!
Optimum fit
Increased value retention
Longevity and high mileage
Excellent quality
VW summer wheels - The warm weather can come!
Summer is just around the corner, and that means it's time to get your car ready for road trips and beach days! One of the best ways to spruce up your Volkswagen is with new VW summer wheels. New wheels can take your car from "blah" to "wow" by making it look more stylish and giving it a whole new feel. Find out more about why you should upgrade to VW summer wheels this coming season here.
When it comes to style, there are plenty of options when it comes to VW summer rims. You can choose from a variety of colours and sizes. Not sure which size is right for your car? No problem - our excellent customer service at Original Wheels will help you find the perfect size for your car. From classic black rims to shiny silver rims, there's something for everyone in the selection.
3 advantages of VW summer wheels
VW rims with summer tyres are one of the most important features of a car, as they support the weight of the vehicle and allow it to move. But they also play an important role in how your car looks and feels. With VW summer wheels you can make your car stand out from the crowd and improve its performance at the same time. Fortunately, all VW summer wheels meet strict safety standards, so you can rest assured that you're driving on safe material. What's more, all wheels are made from high-quality materials, so they won't just last through the current season, but for many years to come! The benefits of upgrading to VW wheels with summer tyres include:
Improved performance: When you upgrade to VW summer wheels, you're investing in better traction and control. This is especially important in the warmer months when roads can be slippery from rain or melted tar. VW summer tyres also offer more grip in wet conditions, reducing skidding or slipping on wet roads.
Style: VW alloy wheels with summer tyres come in a variety of sizes, styles, colours and designs to help you find the perfect fit for your model. Choose from elegant black rims or chrome designs that will turn heads on the road. New alloy wheels add personality and style to any car, so don't miss out on the opportunity to customise your car.
Cost savings: Investing in a set of VW summer wheels can actually save you money in the long run! High-quality summer tyres last longer than cheap ones, which means they need to be replaced less often over time. Combined with regular maintenance, these tyres also help keep fuel costs down as they are designed for maximum efficiency without compromising safety or performance.
Upgrade your VW today! Investing in a set of VW wheels with summer tyres is one of the best ways to get your car ready for the warmer days of the season - without breaking your budget. From improved performance and cost savings to added style and personality, there are many reasons why it's worth upgrading to original VW wheels. So don't wait, upgrade today so you can enjoy the summer while driving around in style!
VW Rims at Original Räder Germany
Want to buy VW wheels with winter or summer tyres? Then you've come to the right place! In our shop or24.de you will find new and used original VW rims or complete wheels in the rim sizes 17, 18, 19, 20 and 21 inches. For the VW Bus Multivan T5 T6 T6.1 there are clearly 5 following 18 inch rims: Toluca, Palmerston, Springfield, Canberra and of course the Disc rims in white or silver. For VW Golf models, the rim designs Brescia, Marseille, Sevilla and the popular VW GTI rims Pretoria are in the lead. For the Passat or Scirocco, it's Talladega and Lakeville.
Have fun shopping! If you have any questions, just call: +49 3831 / 66 77 110 or send us an email: info@or24.de
Your Original Räder Team