The best Audi winter wheels for you!
Audi winter wheels are 100% convincing
Are you looking for Audi winter wheels? We have them! Long live the Audi family. Now it's time to find the perfect set of Audi winter wheels for the cold months. Fast shipping from Germany and secure payment means we always take care of our customers needs. Enjoy shopping with us.
The snow is coming and you have to be ready. Audi complete winter wheels ensure that you and your car are prepared for the cold season. With the tailor-made Audi rims you are safe on the road this time of year, so you can reach your destination effortlessly.
TheAudi winter wheels are designed for the coldest weather. You no longer have to worry about getting stuck in the snow or slipping off the road when commuting to or from work. With these genuine Audi winter wheels, you can focus on having fun while staying safe behind the wheel, no matter what the weather Mother Nature throws at you this year. Don't wait until it's too late - order today!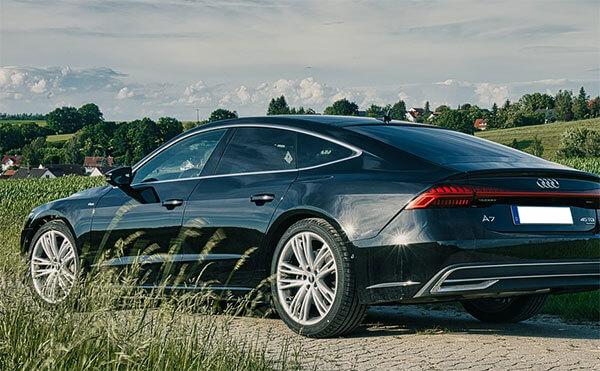 Audi winter tires for optimal driving
A set of winter wheels is a great way to ensure your vehicle model is equipped with the right tires for whatever the season throws at you. They are made of high quality materials and specially designed for harsh weather for all models. And they look good too!
The original Audi winter tires offer more reliable grip on slippery roads with snow and ice because they have special tread designs with transverse grooves to prevent slipping even at high speeds. For Audi, maximum safety is a matter of course. Audi can look back on a long and successful history of safety innovations. The rims are very popular with Audi enthusiasts because they are lightweight yet strong enough to withstand high speeds without sacrificing performance. Audi has set itself the task of combining the best of safety and performance. With their exclusive rim designs, they have created a high level of safety for their cars, which not only looks good, but also improves your driving experience with better driving characteristics than ever before!
You can be sure that Audi winter rims and winter tires are prepared for any kind of bad weather. It is safer to argue about the brand of winter tires. It is only important that the "M+S" symbol is on the side wall, which indicates that all statutory requirements have been met. There is an "M+S" symbol, which indicates that all statutory requirements have been met .
Buy original Audi winter wheels and save money!
It should have become clear that you need to buy Audi rims with winter tires, appropriate to the season, to get through the cold days safely. We make the purchase very easy for you and offer you a large selection of rims and complete wheels for various Audi models (from Sportback to sedan) in different designs and sizes (16 inch, 17 inch, 18 inch, 19 inch, 20 inch, 21 inch ) in the best original quality, our exclusive nowhere cheaper guarantee, our free tire guarantee, free shipping in Germany and more. Take a look at our winter offers. We will not disappoint you!
So what are you waiting for? Don't hesitate, choose your model, look for your complete wheels and order from the comfort of your own home! Buying a wheel set Audi winter wheels has never been so easy.
Your benefits at a glance::
Top quality
Highest security
Best performance
⚠ Original Räder Tip: It is best to buy winter wheels for your Audi in summer, because our prices are even lower then. You also get our exclusive tire guarantee for free with your purchase!