BMW rims with summer or winter tyres
Enjoy the absolute driving pleasure with OEM BMW Rims!
There's nothing like having a beautiful set of BMW rims to make your car stand out from the crowd. From classic looks to modern designs, there are so many options that the choice can be overwhelming. But don't worry, we're here for you. With the help of our guide on how to buy the perfect set of wheels for your car, you can give your vehicle a great look that will last for years to come.
Authenticity and quality: Original rims are made from high-quality materials and come straight from the factory. So you can be sure that you are getting authentic parts for your vehicle. You don't have to worry about buying cheap replicas or parts that don't fit properly. You don't have to worry about compatibility issues either - if it fits your model year, they'll fit without a problem.
Aesthetic value: Original alloy wheels are not only reliable - they look great too! They offer a timeless aesthetic that will make your car stand out in any environment. From classic designs to modern looks, they give your car a unique look you won't find anywhere else. And because they're designed specifically for your model, you can be sure that the fit and finish will always be perfect.
Longevity: When you buy new wheels for your car, durability is always an important factor. After all, you want to be sure that your investment will last as long as possible! Fortunately, original BMW alloy wheels are built to last: They're made of sturdy construction and robust materials, so they won't break or bend easily over time. That means they don't just look good, they last!
When it comes to cars, the Bayerische Motoren Werke from Munich are one of the most innovative companies in terms of technology and design and are also known for sportiness and performance. That's why OEM BMW rims make your vehicle something very special. All original light alloy wheels, whether summer rims or winter rims, will make your vehicle shine stylishly and sleekly.
The different models are designed to cope with any kind of driving conditions, be it a rain-soaked motorway or the dusty roads. You should always consider original rims for your model! They are tailor-made and will optimise appearance and safety as well as performance.
BMW Genuine wheels: The advantages
So you want to upgrade your vehicle? Then BMW Genuine Rims should be at the top of your list. They are designed to fit your model perfectly. Let's take a look at why you should upgrade your vehicle today.
One of the main benefits of upgrading to original rims is that they offer a unique look. The various distinctive designs are unmistakable and provide an instant boost in style and performance. Plus, they're durable, so you won't have to worry about replacing them anytime soon.
These also provide better handling and control when turning and cornering, as they provide more grip and better responsiveness in tight corners or at curbs. With less body roll and more agility in tight corners, you can count on improved overall performance.
Finally, they also improve fuel efficiency as their aerodynamic design reduces drag. This means they help save money at the pump.
They also reduce drag, thanks to their aerodynamic design.
BMW OEM wheels offer many benefits, such as better handling, lower fuel consumption and a unique look that catches the eye when you drive by. Feel the quality difference first-hand. With BMW OEM rims on your vehicle, you'll be ready for any track.
Why BMW winter wheels are essential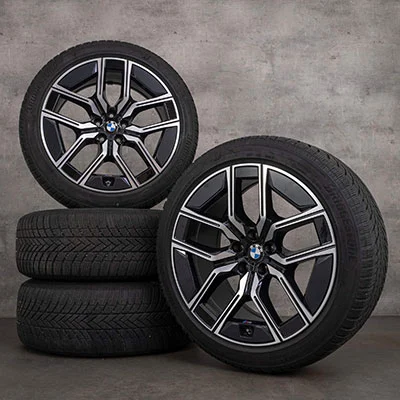 Winter is just around the corner and with it comes challenges for motorists. To stay safe and reliable on the road, BMW winter wheels are essential.
Our offers consist of winter tyres and matching rims and offer optimum performance for the cold season. They are easier to fit and remove and require less effort compared to storing individual tyres. Winter wheels offer better handling and fuel efficiency, as the rims reduce drag.
Another advantage is that original BMW winter rims are the perfect choice for cold temperatures, as they are precisely matched to the model in question and ensure the best performance and fit.
How to choose and care for BMW winter wheels correctly
It is important to choose BMW winter wheels according to the size and type of car. You should also find out about the region you are driving in and take into account the weather conditions that are common there.
To maximise the life and performance of BMW winter tyres, one should check them regularly and make sure they have sufficient tread depth. It is also advisable to replace the tyres every few years, especially if you regularly drive in snowy areas or if the wheels show signs of wear. It is also important to store them properly when not in use to ensure they are in perfect condition when they are fitted again.
Overall, BMW rims with winter tyres are an important investment for any driver who wants to be safe on the road in winter. They offer excellent traction and grip on slippery roads, a longer service life and better handling in wet weather. By choosing the right size, type and style of rims, as well as proper care and storage, you can maximise performance and durability
Best BMW wheels with unique designs
No matter what kind of driving experience you're looking for, you're sure to find the perfect set of wheels in our shop.
If you want to go on long drives and need BMW wheels, there's nothing better than original parts from your own car manufacturer! So take your vehicle to the next level with high-quality, authentic originals!
Why original BMW wheels? Here are your advantages!
Optimum fitting accuracy
Specifically tuned for your car, giving you optimum handling
Increased value retention of the entire vehicle
Longevity and high mileage due to excellent quality
We are sure that when you buy BMW original rims or wheel sets, there is nowhere better to save money than with us. Our customers are just happy to have found their perfect set.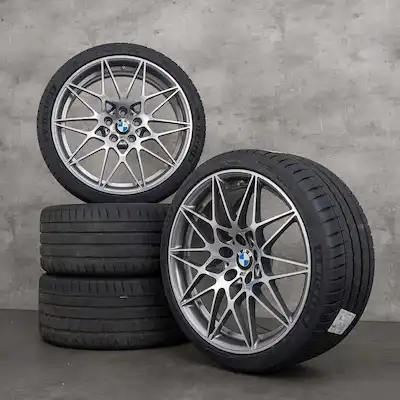 Upgrade your car with BMW summer wheels
Does your car need a little more pizzazz? BMW summer wheels are the perfect accessory. They don't add style and sophistication, they make sure you get the best possible performance out of your car.
Performance benefits: Summer wheels are made of high-quality materials and therefore do not wear out as quickly or easily. The heavier weight of the wheels also helps to improve the handling and stability of your car, giving you a smoother and more responsive driving experience.
The extra grip on the wheels means that they will not wear out easily.
The extra grip the tyres provide also increases traction in wet conditions, making it easier to stay in control on slippery roads.
Style benefits: In addition to the performance benefits, BMW summer rims also offer aesthetic benefits. These sleek and stylish wheels give your car a modern and sophisticated look that will get you noticed wherever you go.
Safety benefits: Of course, safety always comes first when it comes to cars - and BMW summer wheels also offer many safety benefits. Their high-quality construction makes them much less likely to fail in extreme conditions.
This means you can drive with the peace of mind that your car is well protected from potential hazards on the road. In addition, their improved traction ensures that you can maintain control in slippery situations and avoid dangerous accidents due to loss of control on slippery surfaces.
Why you should consider BMW summer wheels
Summer wheels are an excellent choice for any BMW owner. From improved handling and grip with BMW summer tyres to custom designs to match any personal style, these premium BMW alloy wheels are a real head turner. So don't wait another minute - upgrade your car model today!
Original BMW rim Shop or24.de
We don't have a BMW configurator, but we do have more than 100 design options of new and used performance BMW wheels, matched to your class in every detail. All rims in 17, 18, 19, 20, 21 and 22 inch offer outstanding quality, safety and are optimally matched to the requirements of your model.
Have fun shopping. You'll get the best prices. That's a promise! Our offers for BMW rims, summer and winter wheels will put a smile on your face. If you have any questions, just call: +49 3831 / 66 77 110 or send us an e-mail: info@or24.de
Your Original Räder Team