The best Mercedes AMG winter wheels for you!
Safely through the winter with Mercedes winter tires
If you're looking for the best Mercedes winter wheels, stop here. Get your new Mercedes complete winter wheels today. With fast shipping from Germany and secure payment options right here on our website. It doesn't get much better! So grab a set while it's still available!
Mercedes winter wheels are the perfect choice for safe driving on icy and snowy roads. The original Mercedes winter rims ensure optimal grip, even in difficult conditions. They also ensure a pleasant driving experience with a low noise level and reduced rolling resistance.
Mercedes winter tires are designed to offer maximum safety when it comes to braking distances, traction and handling on snow or ice. And they are all tested by Mercedes engineers in state-of-the-art laboratories before being released for sale. So you can be sure that every single tire meets the highest quality standards.
You don't want to risk losing control of your car due to bad weather conditions this winter? Then get your new complete Mercedes winter wheels today in our original wheel rim shop.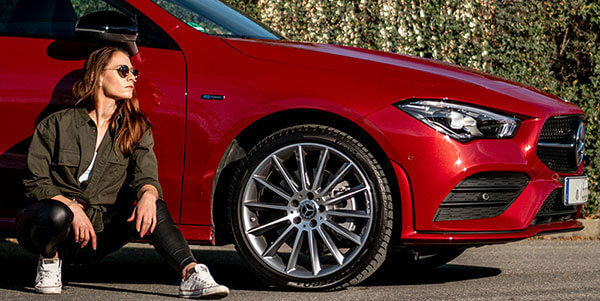 Influencer Anna Herminsche and her complete Mercedes winter wheels bought from us
Mercedes winter rims: Perfect design with optimal performance
Mercedes winter wheels offer a unique combination of performance and safety on ice and snow-covered roads. They've been specifically designed to work in these tough conditions - so you can rest assured that they'll protect you when it matters most! In addition, Mercedes rims offer an attractive look that goes perfectly with your vehicle. With our wide range of products, there is something for every taste and every budget.
AMG winter wheels: Sportiness in winter
You drive a Mercedes AMG and want to get the full performance out of it in winter too? Then AMG complete winter wheels are perfect for you. AMG is the pinnacle of luxury and performance.
You can feel that as soon as you sit down in an AMG. The original AMG winter wheels give your car an elegant look that draws everyone's attention and help you get through even the worst of winter with ease.
These AMG winter tires are engineered to deliver maximum performance even in the toughest conditions. These high-performance tires have been developed by top engineers who know what it takes to get the maximum performance out of your car, whatever the season.
Buy Mercedes AMG winter wheels from Original Räder
Are you one of those people who still don't have complete Mercedes winter wheels on their car? Then it's time for you to get some! Fortunately, we offer you a large selection of original Mercedes winter wheels in our online shop.
You also get other unbeatable advantages such as our exclusive nowhere cheaper guarantee, our free tire guarantee and fast shipping from Germany. No matter whether you want to buy AMG winter wheels or Mercedes winter wheels, you will definitely find what you are looking for!
Don't wait until it's too late and act now!
⚠ Original Räder tip: Mercedes winter wheels are the best. Is there a better way to get a good deal than online from our online shop? With our free tire guarantee you are also equipped for the entire season.